Anesthesia-Free Teeth Cleaning for Cats & Dogs
Safe, Effective, Affordable Pet Dental Care
A non-surgical alternative for keeping your pet happy and healthy. We're ready for you.
Over 80% of dogs and cats will develop mild to moderate dental disease by the time they're just
3-years-old.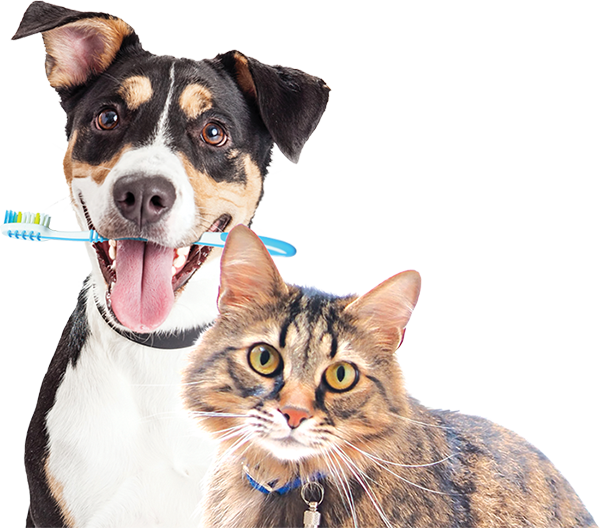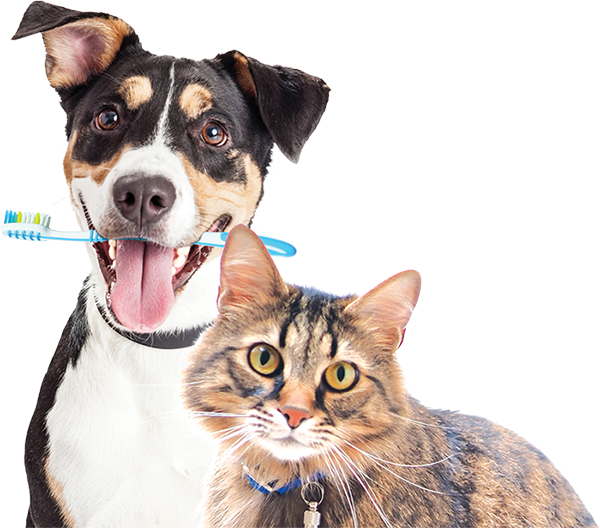 Visit Us at Our Gaithersburg Clinic
Appointment Required
The Benefits of Cleaning Without Anesthesia
Anesthetized dental cleaning is surgery and the risks of anesthesia are sometimes greater than the benefits of the surgery itself.

Low Risk
Aside from the risks of anesthesia itself, anesthesia-free dental cleaning eliminates the need to subject pets to laboratory pre-screenings, the use of IV catheters and fluids, breathing tubes and the need for life support & monitoring devices.

No Recovery Time
Another drawback to anesthesia are the side effects: behavioral change, grogginess, poor balance, chilling effects and nausea to name a few. After anesthesia-free cleaning, pets leave feeling like their usual self—but with much cleaner teeth.

Affordable
Surgery not only carries risks, it's expensive too. Anesthetized dental cleanings can cost upwards of $700 and are often cost prohibitive. Our anesthesia-free approach ranges from $249 to $289, depending on degree of plaque buildup.
Testimonials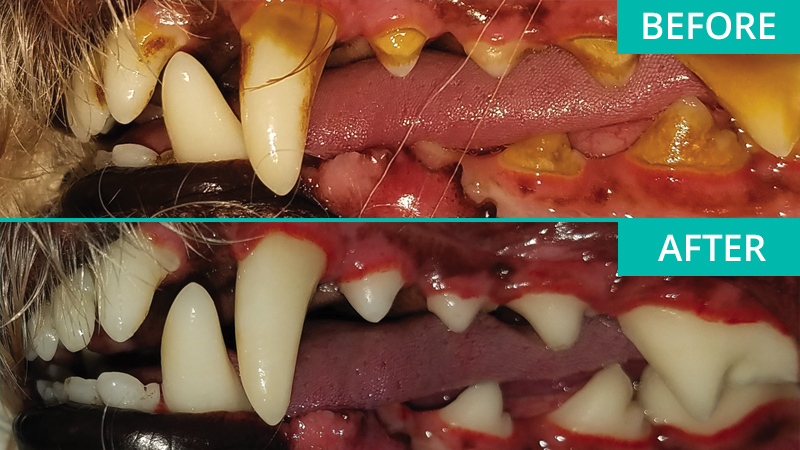 Wanted to thank you and your staff again for the great job you did on Blues teeth. Everyone was so friendly and dog lovers for sure!! The before and after is amazing, "pearly white" is right!! I would absolutely recommend your service to dog owners like me, that may have a challenge keeping their dogs teeth/ mouth clean and healthy. His breath is definitely better and I think he even smiled at me!! 😄 See you all again!!
—Nicole
This is the best business to hit the MD DMV area. If you feel that your pet is part of the family, this holistic approach is what we've been waiting for. Chloe is 15 years old, and too old to do well under anesthesia.
This "Pearly White Pets" did a great job – they worked with Chloe's pace. I highly recommend this service!!
—Ginny W.
My husband and I had such an amazing experience with Pearly White Pets. We brought our mini dachshund, Alfie, in for a teeth cleaning and from the moment we arrived, everyone was extremely helpful and welcoming. The whole experience was seamless and easy. Alfie was nervous but the wonderful techs put him at ease and he didn't whimper or bark once. The cleaning was fast and they did an amazing job. Alfie strutted out, feeling like a movie star when it was over.
I would highly recommend this company and will be bringing our other dogs back for their cleanings. Thank you!
—Adrienne & Anthony G.
I brought my two ragdolls to have their teeth cleaned. The staff did an excellent job. They were very friendly, treated my cats with care and got their teeth extremely clean. After they were done, they give you an evaluation of what they saw. Fortunately, my cats had minimal plaque but I feel much better knowing their teeth and gums are in excellent health. If they do spot a problem that prevents them from cleaning they will let you know so you can take the cat to the vet. Everyone was so nice & professional. I highly recommend them and look forward to when they come back to town. My cats did not mind the cleaning and best of all there was no anesthesia risks!
—Lynne C.