Kitty Cam: How to Take a Purrfect Picture of Your Cat
July 5, 2018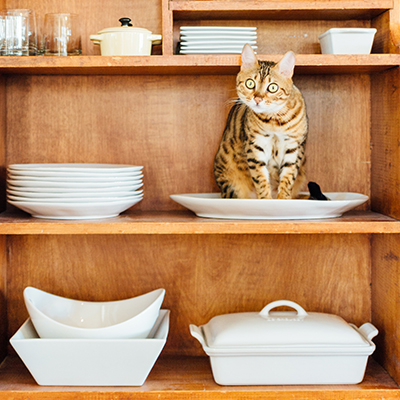 Photo by Paul Hanaoka. Sometimes your cat's favorite spot isn't your favorite spot for your cat.
As we all know in this age of the internet, there is nothing quite as satisfying, distracting, or delightful as a great picture of a cat. But as anyone who has tried to take a picture of their feline friend knows, it can be very hard to get a good photograph! Cats move fast, sometimes have trouble sitting still, and unlike our puppy pals, they don't take well to being given direction. So how to get a good photo? Follow these steps to an instagram-worthy pic!
Take the picture in a familiar setting
Cats don't take well to direction, so work with their natural instinct. Is there a spot in your house that your cat tends to sit in? For some cats this is a window sill, or a spot at the foot of your bed, or even the kitchen near their food dish. Get ready to take your photo wherever your cat tends to gravitate towards.
Engage them with toys
Unlike dogs who respond to commands, cats tend to give you attention when they want, so the key is to make them want to engage. Bring out a few of their favorite toys to tempt them to play or to make them look towards the camera. Toys with long sticks will be your friend here, as it will keep your hands out of the shot!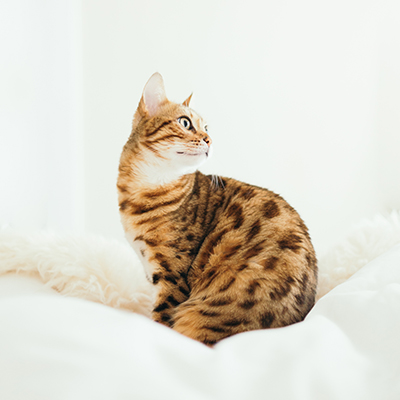 Photo by Paul Hanaoka. Use natural light to capture your cat's natural elegance.
Natural light is your friend
Try to choose a space with strong natural lighting to illuminate your cat. Unidirectional lights (such as overhead lighting or a strong lamp) can cast odd shadows or obscure details of your kitty. In addition, avoid using flash whenever possible. Not only will the sudden flash startle your cat, but the flash can make your cat's eyes glow yellow or red.
Work with your cat's personality
The biggest advantage you have in taking a photo of your kitty is how well you know them–so follow your instinct. Is your cat more energetic in the morning or the evening? Do they come alive before a meal or do they get tired out after you take some time to play? Do they like to climb or do they tend to lounge around? Think about what you love about your cat and use it to take a picture that shows off every inch of their vibrant personality. That is what will make the purrfect shot!